Take Control of Your Personal Finances … 

ONE DAY ONLY … you will hyper focus on your money, the decisions you have been making, and the future you are creating for yourself.  MAKE 2019 YOUR BEST YEAR EVER! Learn how to grow wealthy by forming brighter financial habits and adopting the 'Wealth Accumulator' mindset. 
… and you'll Transform Your Financial Future! 
Scott McLaine's BrightMoney Bootcamp delivers new habits, a financially enlightened mind, a superior home money management system, and total financial confidence that you are on the right track, making the right financial decisions, and actively manifesting the life you imagine.
Included with your FINANCIAL BOOTCAMP Ticket …
AcademyCORE 3-Ring Binder with Full Color Workbooks for each lesson.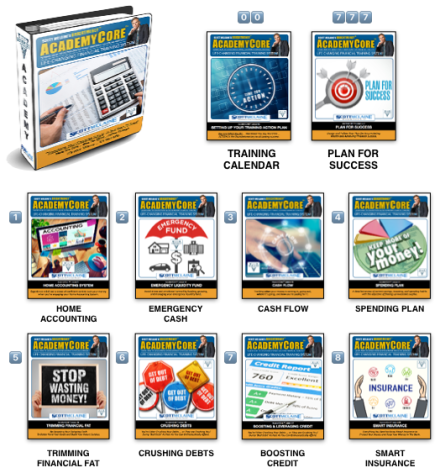 The AcademyCORE financial training workbook series includes 8 individual full color workbooks. Each workbook reinforces your bootcamp training, helps you organize your thoughts, and prompts you to take action now. The whole series keeps you on the path of growing wealthy. Build the mindset of the Wealth Accumulator and design your 2018-2019 Plan for Financial Success as you begin your program.
Lessons Include …
Home Accounting – Transform how you manage your money.
Emergency Money – Get your emergency money, and plan in place.
Cash Flow – Organize & automate your monthly bill paying.
Spending Plan – Manage expenses and grow wealthy.
Trimming $Fat – Squeeze profit back into your future.
Crushing Debts – Crush your debts before they crush you.
Boosting Credit – Boost & leverage your credit score.
Smart Insurance – Save money and avoid disaster.
How BOOTCAMP Changes Your Future …
Learn How to Grow Your Wealth Monthly
Crush Your Debts Immediately
Boost and Leverage Your Credit Score
Save More Money Weekly
Dial in Your Monthly Spending Plan
Trim Financial Fat Get on Same Page as Spouse / Business Partner
Minimize Annual Taxes
Achieve Financial Certainty
Feel Great About Life Again
Bootcampers Rave About Their Experience …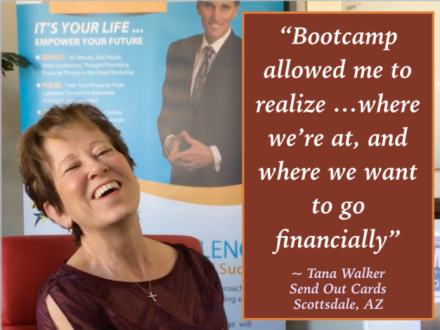 Who Should Attend FINANCIAL BOOTCAMP ???
hmmmm … everyone that uses money! 
… anyone that wants to grow wealthy … faster!
… everyone who is tired of not having enough money

Great for everyone living paycheck to paycheck …
Are you struggling to make ends meet?  Not enough money left at the end of the month? Small shifts in how you spend and budget money can have a major impact on your future lifestyle.  (More freedom and less stress)
Powerful for young adults … (18 to 25) just getting started in life.  Time is your best friend and good habits installed now can have a profound affect upon your future financial situation and retirement.
Perfect for families (with young children) …  If college is in the future for your children … start saving now and maximize the advantage of time & compound interest to help with the associated costs.
Great for single mothers … The budget can be tight, the demands can be high, and stress can be through the roof! The great news is … so can the joy, the relief, and comfort knowing that you're going to make it … better yet, that you're going to thrive financially.
Timely for adults (30 to 50) with less than 100k saved for retirement …You should be well on your way and saving for retirement … But, if you're not, it's never too late to get started.  What matters most is what you do with your money in the future.
Excellent for couples with different spending and savings habits … It can drive you crazy … he spends while you save. She shops while you budget. Keep your relationship in order by keeping your finances in order.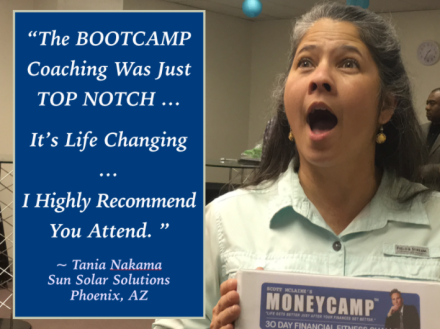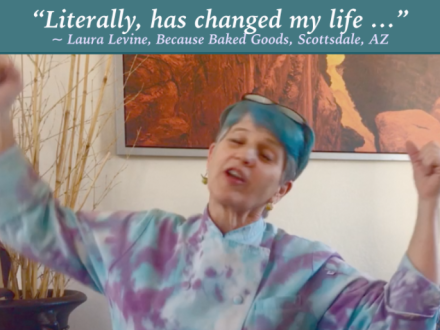 Meet Scott McLaine, Author & Academy Instructor
Scott McLaine is an accomplished public speaker who immediately builds the trust of the audiences he works with. Scott has trained thousands of business professionals, business owners, and entrepreneurs around the country. He is a high energy performer who provides practical 'how-to' knowledge that can be applied immediately.
"It's Not What You Make … It's What You Do With What You Make."